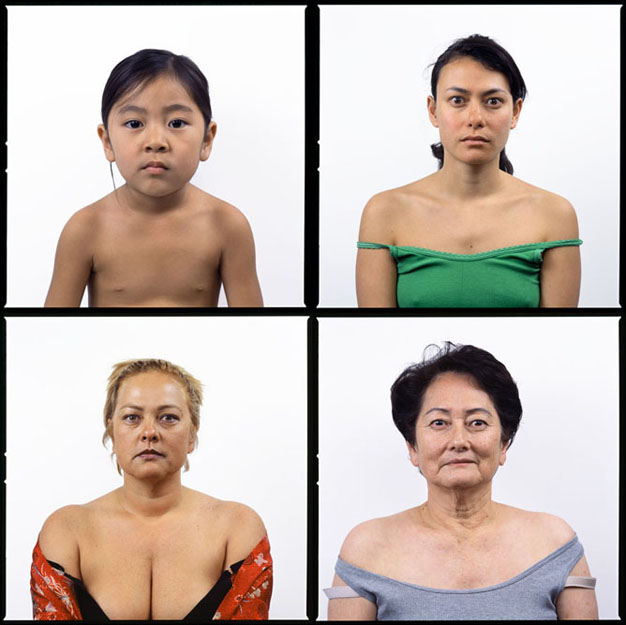 A few years ago I traveled to LA for a friend's family reunion with Director/Editor Anthony Cerniello to work on his time-lapse aging project titled, "Danielle", in which I photographed a series of family portraits of multigenerational women that were then passed onto animators who used the scanned film to morph the still images together and show the aging process in a thought-provoking, poignant way that has never been done quite like before. Since all of the effects work was to be realized digitally, we decided to shoot on film with a Hasselblad to retain as an organic quality to the piece as possible.
Cut to: 2013. After working on and off the project for many years, I was blown away when Anthony sent me the finished version early last week. I watched the video and finally heard it with the accompanying score by Mark Reveley which starts out like Also Sprach Zarathustra if reassembled by Walter (Wendy) Carlos. I love how it transitions into this hollow mechanized tone and droning rhythm of midlife then concluding with an echo of traditional eastern twang…like the last plucks of a shamisen as the eldest woman greys away. But there's a beautiful, content smirk on her face, as if she's done it all and dares you to have the courage to live half the life she did, love half has hard as she did. And still I watch it again and now see the slightest hint of sadness and fear in one of her swallows at the very end. Visually, it blurs the line between reality and illusion. I'm not sure if I see human or android. There's a "replicant" quality to the woman-child, but regardless, she has a tender soul and reminds you of your own degeneration and how you think you'll cope with fate.
The video has now reached its four-millionth+ view on Vimeo in less than a week. It has also received a great deal of press and is currently the topic of discussion amongst a variety of journalists, artists, university professors and even those in the medical field who are using it as a discourse and exploration of a condition known as "Change Blindness."
But even at its most simplest … it's fucking cool to watch.
It was a great project to be a part of and I thank my good friend Anthony for the opportunity to collaborate with him.
Enjoy: